Whether you're a first-time buyer or an experienced homeowner, buying a new home can be an exciting—but sometimes overwhelming—process. The detailed steps in the process are outlined in the diagram below.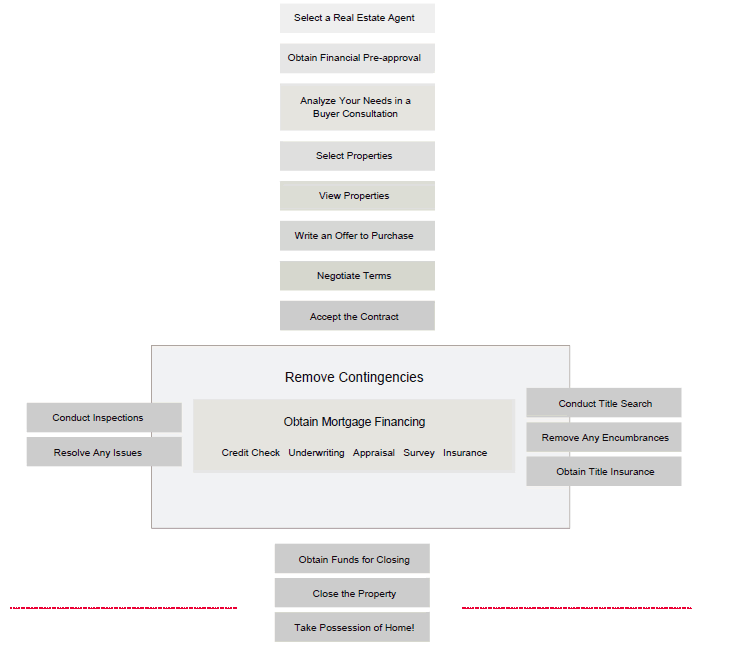 Testimonials
" I was in need of a Realtor to rent my condo unit. My schedule had been too busy for me to go through the process of showing the unit, doing background search, etc. I already knew Ron Howell from our days in College, and I wanted someone who was efficient, professional, and could deliver. Ron did all of the above (and more) and made it easy was for me to step in and select the right person. His personal touch and marketing efforts paid off much quicker than I could imagine as it took less than two weeks to finalize the deal. I was very pleased with Ron and would highly recommend him to anyone seeking a qualified Realtor. — M. Rhim, Bowie, Maryland "
- M. Rhim
" We love working with Ron!! His experience and professionalism is unparalleled and he is a true gentleman. He is always seeking the best outcome for his clients and advocates for them in the best way possible. He is knowledgable and an excellent negotiator. You are truly in great hands with Ron as your agent, advocate and friend!! "
- E. Madden
" I was really happy working with Ron. A previous property deal had fell through and I had less than a month to find a place to before my job started. I was moving to an unknown place and had very little knowledge of the area and just happened to come across Ron when he was showing a property to someone else. He turned out to be a great resource for my move. He was honest, organized, available and knowledgeable. He took the panic of not finding a place in time away. — M. Glover-Payne, Severn, Maryland "
- M. Glover-Payne
" It was a great experience working with Ron! He is extremely professional and relentless in his approach to providing real estate services. He ensures all aspects of the process are thoroughly executed in favor of the client. I highly recommend Mr. Howell as you will be very pleased with his customer service. Thanks Ron!!! "
- Kelvin L
" I met EXP Realtor Ron Howell in 2019 when I retired from the Denver Police Department and moved to Maryland. Through his expert analysis and personal conversations he narrowed my search to Clarksville. Little did I know I moved to a highly sought after River Hill neighborhood. Needless to say, three years later, I have doubled my Condo value, sold in ten days and Ron found my new 2100 square feet Townhouse in a week. If you need outstanding service and results, I recommend my man Ron Howell for all your real estate needs in the DC or MD.. "
- A. Hancock
" Ron I want to extend my appreciation for taking the time in evaluating multiple homes that eventually ended in my dream home. Your attention to details about my financial obligation to live in a home oppose to living for my home was a huge characteristic that is not found in a agents. "
- A. Bullock
" Ron made the purchase of my first home relatively easy. Ron walked me through every step of the process and presented me with great options to choose from. I love the house that I am in and Ron was very helpful in making my first time experience quick and relatively stress free. "
- A. Bivins
Previous
Next